Personal Mythology
David Feinstein and Stanley Krippner
(picture by Deborah Koff-Chapin)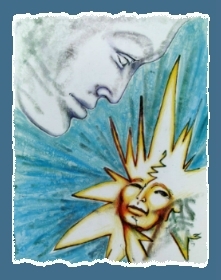 A fresh and intriguing synthesis of a mythological perspective with contemporary psychological methods.
-- Joseph Campbell
Personal Mythology is one of those few books that honor and ignite the power and mystery of the interior life. It is an inspirational work that demonstrates how personal mythology directs our actions and organizes our experience
-- Angeles Arrien, Ph.D.
An important, fascinating, and delightful book which adds a new dimension to our understanding of human behavior. --Ashley Montagu, PhD
Continuing and expanding the work of C.G. Jung and Joseph Campbell, this important book explores the role of mythology in our lives and its relevance for the future of the planet.
-- Stanislav Grof, M.D.
Brilliantly conceived and beautifully written, Personal Mythology opens new ground in the fields of personal and social transformation. Its guidance is expert and exemplary, giving the reader powerful and luminous procedures . . .
-- Jean Houston, Ph.D.
A masterful guidebook for exploring the wonders of the inner world and deepening your awareness of the personal beliefs that shape your experience. This book can change your life.
-- Frances Vaughan, Ph.D.
In this remarkable book, the authors challenge you, through the use of ritual, dreams, and story, to become aware of the mythology you are living, to confront it, and in the end to gain some mastery over it.
-- June Singer, Ph.D.
. . . a formidable synthesis of the best self-help techniques for personal transformation.
-- YOGA JOURNAL
Make no mistake about it. Although written in the format of a do-it-yourself, self-help book, this work is profound and promises fundamental individual and social change. For anyone who felt fascinated in being led to contemplate the "Power of Myth" by the PBS video series with Bill Moyers interviewing Joseph Campbell, this book will take you a giant step further . . .
-- QUADRANT (Journal of the C.G. Jung Foundation)
Neither Carl Jung nor Joseph Campbell [showed us] how to use myth for personal and societal growth. Authors David Feinstein and Stanley Krippner begin to answer that question.
-- THE TOLEDO BLADE